Canada's Top Athletes Brought Hockey, Racing, and Skating to New Heights
Canada is the home of top athletes such as Sidney Crosby, Jacques Villeneuve, Kurt Browning, Wayne Gretzky, and many others.
Wayne Gretzky
Wayne Gretzky is a former head coach and ice hockey player who lifted hockey to new heights. As a leading point-scorer, Gretzky tallied more than 100 points and is considered the greatest player of all times.
Terry Fox
Terry Fox is a cancer research activist and athlete who ran across Canada to raise awareness and funds for research. His Marathon inspired millions of people around the world, and the Terry Fox Run is held on an annual basis.
Donovan Bailey
Donovan Bailey is a former Canadian sprinter who won the 100 metre sprint at the Gothenburg's World Championships in 1995. He is the second athlete to hold all major titles, including the World Record Holder, Olympic Champion, and World Champion.
Bobby Orr
Former ice hockey player Bobby Orr played in the NHL and won the Calder Trophy. He revolutionized ice hockey and is known as one of the best players of all times.
Sidney Crosby
Also a professional hockey player, Sidney Crosby is the captain of the Pittsburgh Penguins who also played for the Canadian Junior Hockey Team and the Quebec Major Junior Hockey League. Because of his impressive record, Crosby earned comparisons to top Canadian hockey players such as Bobby Orr and Wayne Gretzky. Image credit:
Via
Kurt Browning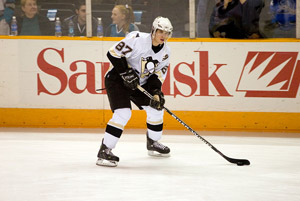 Kurt Browning is a Canadian commentator, choreographer, figure skater and a 4-time world champion. He is listed in the Guinness Book of World Records for landing a quadruple jump. Browning became a world champion in 1993, 1991, 1990, and 1998. He also became a Canadian silver medalist in 1988, world silver medalist in 1992, and Skate America bronze medalist in 1989.
Jacques Villeneuve
Jacques Villeneuve is a racing driver of Canadian origin who is well known in Australia and Europe. He won the Indianapolis 500 in 1995 and the World Championship in 1997. Villeneuve became the youngest racing driver to win the PPG IndyCar World Championship.
Steve Nash
Steve Nash is a professional basketball player who was born in Johannesburg, South Africa. Michal Jordan, Wilt Chamberliain, and Steve Nash are the only basketball players who have scored 40+ points. He has played for the Dallas Mavericks, Phoenix Suns, and Los Angels Lakers.
Clara Hughes
Clara Hughes won a number of Olympic medals in speed skating and cycling. Hughes won the bronze medal at the Olympic Games in 1996 (cycling) and the bronze medal in 2002, silver medal in 2006, and gold medal in 2010 (speed skating). She also won multiple medals at the Pan American Games, Commonwealth Games, World Cups, Pan American Championships, and World Championships.
Cindy Klassen
Cindy Klassen is a long track speed skater of Canadian origin and a 6-time medalist, with 5 medals at the 2006 Olympic Games in Turin, Italy. Klassen also won the Bobbie Rosenfeld Award in 2006.
Elvis Stojko
Being a Canadian figure skater, Elvis Stojko is also a Canadian champion and a 3-time world champion. The skater won silver medals at the 1998 and 1994 Olympic Games and world titles in 1997, 1995, and 1994.
Mike Weir
Mike Weir is a professional golfer who played for Canada during the World Cup in 2007, 2006, 2002, 2001, 2000, and 1997. He also won the Masters, which is the most prestigious tournament, and became the first Canadian to have ever won it.