Canada's Wonderland: Thrilling Rides, Dinos, and Family Fun
Canada's Wonderland is a themed amusement park located in Vaughan, Ontario, which offers plenty of attractions and things to do.
The park
opened doors in 1981 and is Canada's largest.
Attractions
There are many things to do around the park, including special events, dining, shopping, and thrilling roller coasters and rides. The family rides are designed for families with children and have different height requirements. Visitors can choose by type, speed, and duration. There are also plenty of thrill rides such as the Sledge Hammer, Skyrider, Shockwave, Drop Tower, Backlot Stunt Coaster, and others. The park features some of the tallest roller coasters as well as rides for kids, with characters such as Snoopy, Charlie Brown, and Lucy and Linus. Visitors also enjoy splash works such as tube slides, speed slides, individual rafts, high-speed pipe flumes, and aquatic playgrounds.
Some of the oldest attractions are the Bayern's Curve, Balloon Race, and Antique Carousel which were installed in 1981, the year when the park opened. Other attractions have been added through the years. The newest attractions are the Wonder Mountain's Guardian and Monsters of the Deep 3D, which were added in 2014 and 2013, respectively.
Themed Areas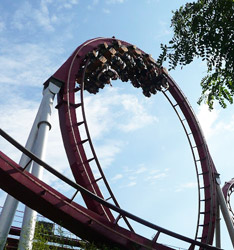 The park is divided into zones or themed areas such as International Festival, International Street, Medieval Fair, and Action Zone. Medieval Fair features attractions like Night Mares, Dragon Fire, Speed City Raceway, the Bat, and many others. There are swinging ship rides, drop tower rides, giga coasters, and classic roller coasters. Dragon Fire, for example, is a steel roller coaster with a double corkscrew and double loop. Night Mares consists of 12 vehicles, with 4 riders in each carriage. This is a thrill ride in that there is no restraint system. The riders hold onto the vehicle while in motion.
The White Water Canyon is another themed area in the park, with attractions such as the Timberwolf Falls, Launch Pad, and Action Theatre. The latter is a 3D theater that has a pay-per-use system. The area features river rafting and water rides.
The park has two areas that are designed for children – Planet Snoopy and KidZville. Taxi Jam and Swing Time are suitable for small children (over 91 cm) while Silver Streak is for kids over 112 cm. The former Smurf area features plenty of rides for children, including Jumpin' Jet, Frequent Flyers, and Blast Off. Planet Snoopy was added in 2010 and offers rides for children of different ages.
Dinosaurs
This is a themed area that displays life sized dinosaurs that have been identified, along with information about each dinosaur. Visitors learn about their region of origin, size (weight, length, and height), and many interesting facts. This is the perfect venue for birthday parties and other events. Canada's Wonderland offers the opportunity to learn about dinosaurs and the Jurassic period, whether going on an educational field trip or visiting the park.
Dining, Baby Care, Pets, and Discounts
Visitors are not allowed to bring their own coolers, beverages, and food in the park. Plastic bottled water and baby formula and food are allowed. Exemptions are made for visitors with medical dietary requirements. There are cafes and fast food restaurants that offer chicken wraps, burgers, and salads, chocolate chip cookies, delicious pastries, funnel cakes, pizzas, icy treats, and a lot more. The park also features baby care centres, located in Medieval Faire and KidzVille. There are family restrooms and diaper changing areas as well. Service animals and guide dogs are allowed in the park. Military discounts are offered.