Famous Buildings and Unique Architectural Solutions in Canada
Visitors are often amazed by the wealth of unique architectural solutions and buildings from different historical periods in Canada. Among them are the Château Frontenac, Banff Springs Hotel, Saint Joseph's Oratory, CN Tower, Casa Loma, and others. The architectural landscape is marked by British, French, and other cultural influences. Canada is a truly cosmopolitan country with many impressive churches, government buildings, towers, stadiums, hotels, and parks.
Famous Towers
There are several towers with unique architectural designs – the CN Tower, Calgary Tower, Niagara Skylon Tower, and Montreal Tower. While Montreal's Tower is not as impressive as other buildings when you think of size, it stands at a 45-degree angle. This makes it the tallest inclined tower, built in Olympic Park. It is equipped with a railway tram so that visitors can climb to the top. There are cocktail and banquet rooms as well as an observatory. The Calgary Tower offers a unique view of the Canadian Rockies and is 191 metres tall. The structure features an observation desk, a skyway network, and a revolving restaurant.
Historical Buildings
Many historical buildings are an inseparable part of the cultural heritage of Canada. The list of national historic sites includes the McCrae House, Hartland Covered Bridge, Canadian Bank of Commerce, Parliament Buildings, and others. Historic sites are found in Montreal, Kingston, Hamilton, Quebec, Niagara region, and elsewhere in Canada. The Hartland Covered Bridge, for example, is 391 metres long, making it the longest covered bridge built so far. This is a national historic site that is featured on Canadian postage stamps. Construction works ended in 1901, and the bridge was proclaimed an engineering wonder of its time. It has a Howe truss covered design. The McCrae House is also a national historic site which is found in Guelph, Ontario. It features temporary and permanent exhibitions that honor the life and work of John McCrae, a Canadian surgeon, artist, and poet. Other historic sites are Fort York, Kingston City, Dundurn Castle, and many others.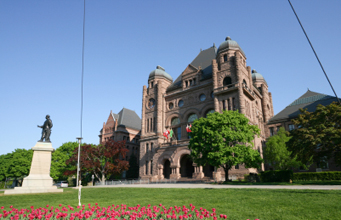 Canada is also known for many bridges with unique engineering designs, including truss, suspension, beam, and arch bridges. The Ahuntsic Bridge in Montreal is a unique architectural solution with five concrete arches, which is operated by Transports Québec. The Alexandra Bridge spans Ottawa River between Quebec, Gatineau, Ontario, and Ottawa and offers unique views of the Parliament Buildings, Ottawa River, and Ottawa-Gatineau skyline. There are other unique bridges in Canada such as the PEI Confederation Bridge, Alex Fraser Bridge, Peace River Bridge, Eleanor Ward Bridge, and others.
Architectural Styles
There are different architectural styles in Canada, including Georgian, Châteauesque, Gothic Revival, French Colonial, Neoclassical, Modernist, and others. Brutalist architecture, for example, was popular among institutional and governmental clients during the 50s. Examples of Brutalist-style buildings are the Dalhousie Arts Centre, Place Bonaventure, and Manitoba Theatre Centre. In contrast to architectural styles characterized by fine ornaments and decoration, this style features materials such as rough-hewn stone, steel, glass, brick, and concrete. Buildings in the French Colonial style are also found in Canada. Examples include the Grey Nuns' Hospital, Fort de la Montagne, Maison Saint-Gabriel, and Citadelle of Quebec. The French Colonial style is an architectural style that flourished during the French colonization. It is characterized by structural elements such as stucco exterior walls, French doors, side-gabled or steep hipped roofs, a full-length porch, and dormers. Other architectural styles that are common in Canada include Art Deco, Tudor Revival, Greek Revival, Second Empire, Scottish Baronial, Italianate architecture, and others. Famous buildings that feature the Italianate architecture are Hotel Vancouver, the Emily Carr House, and Castle Kilbride.
Canada is the home of many historical and modernist buildings and structures, including grand hotels, mansions, cathedrals, observation towers, basilicas, shopping centers, bridges, and a lot more.