How to Find a Temporary Job in Canada
Many foreign workers come to Canada to fill in temporary positions, helping employers across the country address skill shortages. If you are among those who look for a temporary job in Canada, there are certain requirements to learn about.
Most of the time, you will need to have a work permit to legally work in Canada. With some jobs, however, you do not need a work permit. Students working on campus are one example. Other positions, for which permit is not required, include public speakers, foreign government officers, and foreign representatives. The latter are official representatives and diplomats of other countries and the UN. A permit is not required for family members of those who work as foreign representatives. Referees, judges, and similar officials, coaches and athletes, examiners and evaluators, as well as emergency service providers do not need a work permit as well. Finally, included in this category are incident and aviation accident investigators, news reporters, and military personnel. Members of other countries' armed forces can work in the country without a work permit. This is provided that they have movement orders, which state that they will enter the country in compliance with the Visiting Forces Act.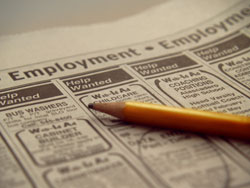 If you do not fall into any of these categories, you will require a work permit before you start looking for a temporary job. Some permits take more time to be issued than others. Note that you may have to go to an interview with officers from the Citizenship and Immigration Canada. They may cancel, change, or impose conditions when issuing a permit. The conditions may determine the employer you are allowed to work for, the work you can do, and where and how long you are allowed to work.
The result of your efforts to find a temporary job in Canada depends on your qualifications, skills, experience, and the type of jobs you are looking for. When you consider accepting an offer, however, you should keep in mind the following. The working conditions and wage you are offered should be similar or comparable to those offered to Canadian citizens working in your sector of choice. Find out whether the employer has made reasonable efforts to employ and train Canadian citizens/ residents for the job. It is important to know this as to check whether the job offer is genuine. The following may also help you sift through job openings. Employers in Canada are encouraged to hire foreign workers if this will help retain jobs or create new job opportunities for Canadian citizens. Employers are also encouraged to hire foreign workers if they will transfer new knowledge and skills to Canadians. Finally, the hiring of foreign workers should not affect labor disputes or the hiring of Canadian workers who are involved in such.
If you want to work as a live-in caregiver, business person, or information technology worker, you should know that these categories have different sets of requirements. Due to shortages in the country's software industry, information technology workers who find employment face a simplified entry process. The reason is the high demand for workers with these specific skills. With this simplified process, a confirmation letter is not required to hire such workers (these letters are issued by the Human Resource and Social Development Canada). The reason is that hiring information technology workers does not affect the work prospects of Canadian workers and job seekers. This is valid if you apply for positions such as telecommunications software designer, multimedia software developer, embedded systems software designer, software products developer, and others in this field. It is important to note that your employer is responsible for making sure the position you are offered is in line with the requirements for the positions listed above.
When you apply for a temporary job in Canada, make sure your application does not include misleading or false information. The same holds true for information you give to have your permit issued.