A First Aid Kid and Emergency Plan to Prepare for Natural Hazards
Preparing for emergencies in Canada is important given that the country encompasses tundra, forests, plains, and mountains and borders the Atlantic, Pacific, and Arctic Ocean. Natural hazards include snow avalanches, hail, floods, earthquakes, and others. There are disaster assistance programs that help communities and households in the event of an emergency.
Knowing the Risks
There are emergencies such as extended power outages that are triggered by natural disasters and hazards. Tornadoes occur more often in Ontario, blizzards in Nunavut, and earthquakes in British Columbia. Knowing the risks in their territory or province helps residents prepare.
Types of Emergencies
Emergencies of various nature occur, including heat waves, fires, floods, droughts, chemical emergencies, poisoning, landslides, and terrorism. In case of poisoning, immediately contact the National Poison Control Center. You should also know the difference between a tornado warning and tornado watch. Tornado warning is when weather radars indicate danger to your health and property. In this case, you should go to the bathroom, closet, storm cellar or basement. Tornado watch is when there are indications that a tornado may be approaching your area. Check your first aid kit and review your emergency plan. Other emergencies include wildfires, hurricanes, winter storms, thunderstorms, tsunamis, and volcano eruptions. Chemical accidents also occur. Your health is at risk if you touch the chemical, swallow contaminated water or food, or breathe it in. Chemical accidents occur at home and at work.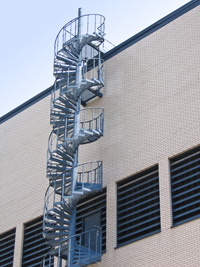 Emergency Plan
It is important to have an emergency plan detailing the evacuation routes and safe meeting places in your area, neighborhood, and near your home. If you have children, ask their daycare or school about the emergency plan they have in place. If you have special health needs (surgeries, medications, allergies, etc.) make sure that your friends or relatives understand them. Give them your doctor's name, address, and phone number.
Power Outages
There are safe and unsafe ways to heat your house in case of a power outage. Do not use unvented combustion appliances. It is safe to use a wood-burning fireplace or a non-electric heater or stove.
Food
Buy food and beverages that won't spoil, for example, dried foods, energy bars, and cans. Foods to stock include cereal, trail mixes, peanut butter, powdered milk, and whole-wheat crackers. You can buy canned soups and vegetables such as peas, carrots, and green beans.
Emergency Kit
An emergency or disaster supplies kit includes items that will help you in case of a natural disaster or emergency. These include maps, a manual can opener, wrench, dust mask, and first aid kit. The kit also contains a flashlight, food, water, and cell phone. It is important to have a first aid kit with medications and protective equipment. Depending on your medical history and conditions, it may include topical medications, symptomatic relief, and life saving medications. Other items on your checklist are safety pins, rubbing alcohol pads, a thermometer, waterproof tape, hand sanitizer, and tourniquet. You can have two survival kits – one at home and another in your car. There are different places to get a first aid kit, e.g. your local drug store and Red Cross. Ask about the products on offer because some kits are designed for boating, camping, and other activities. It is also important to check the expiration dates on medications and other supplies and replace them on a regular basis. Make sure you have a first aid instruction booklet. Your kit should also include a breathing barrier, cold compresses, and antibiotic ointment packets. Keep emergency and non-emergency phone numbers as well.