How to Become a Chiropractor in Canada
Chiropractors
practice an alternative form of medicine emphasizing prevention, diagnosis, and treatment of disorders of the musculoskeletal system. Chiropractic treatment focuses on manipulation of the soft tissues, spine, and joints. In general chiropractic can be described as complementary and alternative medicine, although practitioners have a number of attributes, characteristic of primary care providers.
Because chiropractic is in an alternative form of medicine, it lacks the credibility of other fields of medicine and other professions in the healthcare field. Being a midwife, nurse, or doctor is regarded as more prestigious.
Yet, if you
live in Canada
and want to become a chiropractor, you will be happy to find out that chiropractic has become mainstream and popular. Poor health habits, stress, and the fact that the Canadian population is aging make chiropractic more and more popular. Those who want to join the ranks of chiropractors should complete 7 years of higher education. Future chiropractors spend 2 years in
university
, studying social sciences and sciences, and 4 to 5 years at a specialized program. You can apply to the Université du Québec à Trois-Rivières, the Toronto-based Canadian Memorial Chiropractic College or another oversees or US university, which has been accredited by the Councils on Chiropractic Education International.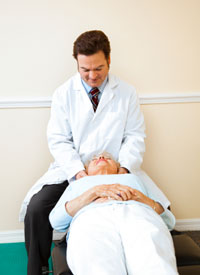 The next step is to gain 1 year of chiropractic
experience
, including experience in diagnosis, treatment, clinical assessment, and referral protocols. Once you have passed the Canadian National Examination for chiropractic licensure, you will get a certificate of registration. This certificate is issued by the Canadian Chiropractic Examining Board, but the different provinces may have additional requirements. It is best to contact you provincial licensing board and request the most recent licensing requirement. To maintain your licensing, you should continue taking post graduation courses. In accordance with government policy and on their own initiative, provincial licensing boards have established continuing education courses and programs, which are mandatory. Programs vary from one province to another. Again, it is best to contact your province's licensing board and ask about their requirements.
If you are a resident of
Nova Scotia
, for example, you should contact the Nova Scotia College of Chiropractors. As part of the registration requirements, applicants should have completed their studies at a CCE(C) recognized chiropractic institution. They should be at least 21 years old and legally entitled to work in the country. In addition, applicants should have passed the Clinical Skills Examination, thus demonstrating clinical competency. There are other requirements as well. Residents of Ontario, on the other hand, should contact the College of Chiropractors of Ontario. Applicants should provide notarized or official copies of their transcripts, along with notarized photos, an applicant fee, and confirmation of permanent residency/ authorization or Canadian citizenship.
Residents of
Manitoba
should contact the Manitoba Chiropractors Association. To become licensed, applicants should provide school transcripts, including transcripts from a chiropractic college and their undergraduate study. Applicants should also provide a proof of professional liability insurance, letter of good standing, and criminal reference check. In addition, applicants need to provide two notarized passport photos, completed Initial License Application and Declaration, etc. Accredited schools include the Canadian Memorial Chiropractic College, National College of Chiropractic, Sherman College of Straight Chiropractic, National College of Chiropractic, and others. The Manitoba Chiropractic Association recognizes diplomas from Canadian, US, and international higher education institutions. Residents of other provinces should check with their provincial boards on the list of recognized universities.