How to Become a Dentist in Canada
Dentistry is a rewarding but responsible profession. Dentists are medical practitioners who treat a large variety of dental issues. Some of these are offering advice on dental hygiene and care, cleaning and bleaching teeth, making fillings, and much more.
Becoming a dentist in Canada
involves considerable effort and extensive education.
The first step to pursuing a
dentist career
is obtaining a bachelorís degree from a
recognized Canadian or international university
. The typical undergraduate degree to complete is in the field of science. After the requirements for a science degree are fulfilled, the future dentist should apply for a School of dentistry. The course of study spans over four years during which the student has the opportunity to specialize in a specific field or become a general practitioner. Among the dentistry specializations are dental surgery, orthodontics, pediatric dentistry, periodontics, and many others.
While attending dental school, the student takes various courses such as oral surgery, dental ragiography, microbiology, periodontics, orthodontics, preventive dentistry, endodontics, oral health, anesthesia psychology, dental neuroscience, etc. Dental students also attend a number of lab classes and treat patients as part of the requirements for degree in dentistry. Upon completion of the course, the student receives a degree of Doctor of Dental Medicine or Doctor of Dental Surgery.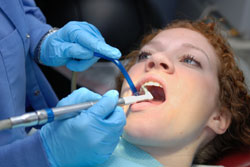 In order to work as a practicing dentist, the candidate has to pass an exam that is administered by the
National Dental Examination Board of Canada
. The next step toward becoming a dentist is to sign with the Royal College of Dentists.
I general, the skills a dentist must acquire include: good judgment capacity, manual dexterity and manual skills, depth perception, patience, communication skills and friendly attitude, as well as business skills.
Private dentists donít just treat patients but have a number of responsibilities such as financial management and inventory management. Persons who work for the dentist are dental assistants, dental hygienists, laboratory technicians, and receptionists.
Dentists who have specialized in a particular field have many options. Maxillofacial and oral surgeons are dentists who perform surgical interventions on the mouth and jaws. Orthodontists straighten teeth by using different devices and methods to add pressure to mal-positioned teeth. Pediatric dentists specialize in the treatment of young patients and often times, they treat only children. Prosthodontists have specialized in the replacement of missing teeth by placing dentures, bridges, and crowns. Endodontists are responsible for performing root canal therapies. Maxillofacial and oral radiologists are experts in diagnosing head and neck diseases with the help of imaging technologies.
Finally, cosmetic dentists offer advanced general dentistry and
cosmetic procedures
that aim at correcting various imperfections, brightening the smile of their patients. Among these procedures, are placing porcelain veneers, porcelain crowns, dental implants, various procedures for teeth whitening, and many others.
Dentists, both general practitioners and specialists are in high demand in
Canada
. Persons who are interested in anatomy, science, and working with people may find out that dentistry is just the right field for them. Being a dentist, however, requires responsible attitude, good judgment, and hard work.