How to Get a Payday Loan in Canada
Payday loans and cash advances
fall in the category of short-term financing instruments that are characterized mainly by a short pay-off period, high interest rates and GPR.
Required Qualifications to Obtain Loan
In order to obtain a payday loan, you need to have an active
bank account
, a job, and a permanent address. No credit check is required. You will sign an agreement and leave a check that covers the loan amount, together with applicable service charges and fees. The check will be dated for the next payday. The loan agreement states that you are aware of the loan cost and understand the agreementís terms and conditions. A couple of issues are typically covered by the agreement: due date to repay the loan, amount of the loan, first-time and up-front charges, other charges and service fees, options for repayment, and charges for late and early repayment.
What Is the Cost of Payday Loan?
Payday loans are the most costly legal option to borrow money. The cost varies with the provider, but the typical charges include processing and administration fees, interest, convenience charges, brokerís fee, verification fee, early and late repayment fees, rollover fee, and one-time or initial set-up fee. You may expect to pay close to $100 in fees and interest for a payday loan of $300. Getting a
cash advance
on your
credit card
is also quite expensive at a annual interest rate of 36 percent. A better option is an overdraft on a bank account or a line of credit.
Loan Providers: Mr. Payday
There are many
payday loan providers in Canada
, and Mr. Payday is a typical example.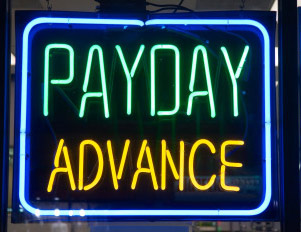 The company promises fast and easy approval, minimum paper work to fill in and the lowest rates in the payday industry. Also, Mr. Payday promises to wire the money right into your bank account as soon as thirty minutes after you have been approved for a loan.
Although Mr. Payday claims to have 99-percent approval rate, the company still has some requirements that costumers should meet to qualify for a payday loan. All applicants should have a job, and they should have at least three months work experience with their current employer. In addition, all applicants for a loan from Mr. Payday should have a
checking account
and should be paid by direct deposit. Finally, those who apply for a payday loan need to have a minimum monthly income of at least one thousand US dollars and have a landline telephone, at which Mr. Paydayís customer service officers could reach them.
To apply for a payday loan, one must fill in an online form and send it to the company for procession. Note that first-time borrowers can apply for payday loans not higher than $300 and this credit limit could increase over time upon the customerís request. Although Mr. Payday is generous enough to lend money to borrowers with poor credit score or even to ones who do not have any credit record, the company does not lend money to people who are currently in a bankruptcy. If you are a habitual borrower, you should take into consideration that Mr. Payday does not allow rollovers, but you can apply for your next loan as soon as you pay off your previous one.