How to Get Good Credit in Canada
Getting good credit in Canada
is not difficult, but it can take some time before you establish good credit score. Whether you want to rebuild or build your credit history, it is important to be responsible and disciplined along the process.
What is a good credit report? It normally shows that you have used different sources of
financing
– from
credit cards
to
personal loans
and mortgages over a period of several years. A good credit report shows that you have made payments in a timely manner with rare exceptions. In the ideal case, you have contributed to an
RRSP
(one or more). This shows to lenders that you are responsible and make plans for your financial future. All these prove to lenders that you are reliable and have full control over your finances. Unlike good credit, a bad credit report shows that you have failed to pay back your obligations or are not making payments on time. In addition, you have a couple of credit cards, most or all at their limits. A third indicator is that you have borrowed for short-term purposes only, such as buying household goods and covering your monthly expenses.
With this in mind,
how do you establish a good credit rating in Canada
? Make sure you are familiar with the Understanding Your Credit Report and Credit Score, which is published by the
Canadian government
. This free publication contains credit score information and documents on improving and building credit, along with sample credit reports. You can find this pamphlet on the website of the Financial Consumer Agency of Canada.
Look at different credit cards offered on the market. If you are rebuilding or starting your credit, you may want to apply for a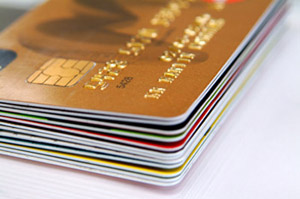 low rate
secured credit card
. With this type of credit card, payments will be more manageable. In addition, you are less likely to miss or fall behind on your card payments. Note that there are some basic requirements to apply for a credit card. You have to be employed, have a
social insurance number
, and be a
Canadian citizen
or resident. You should also be of the majority age.
Getting a secured credit card is a good idea because you deposit money to use as credit. This will be your credit limit. Most banks will only ask you to provide personal identification and information.
Depending on your choice of credit card, you may earn rewards points or cash back. These can be redeemed for travel, gift cards, merchandise, and more. Keep in mind that some credit card issuers require good or excellent credit to issue such cards. Look at their requirements before you apply.
You may wander what a good credit score is (as to know what you are aiming at). Credit scores are generally in the range 300 – 900, and the higher the number, the better the credit score. A high credit score shows to the lender that you are not a risky borrower. Naturally, you will get lucrative loan and credit card offers if you have an excellent credit score, i.e. over 760. To get there, do your best to pay the balance in full. On receiving your statement, try to pay it at once. Even if you cannot pay the full balance, pay as much as you can. After using a secure credit card for some time, apply for an unsecured one. Be responsible and make payments on time, and you will get good credit with time.