How to Marry a Non-Canadian in Canada
A lot of Canadians are complaining that they are having problems with Canadian authorities because they want to
marry a non-Canadian in their home country
. Surprisingly, the Canadian government is not as benevolent as one might expect. People who have been through this advise that the non-Canadian partner apply for a visitorís visa to get inside the country. This means you must have enough money to support them during this time. The other way is to marry them outside the country and launch the process, which takes at least three years. Some people go so far as to say that they deeply regret even deciding to establish themselves in Canada because of all the fuss they had to go through. If the non-Canadian spouse is unable to sustain him- or herself in
Canada
, then you can have them make sporadic visits. Say they come at a specific time, at which you can get married and then submit an outland application. Again, this will take time Ė he/ she will have to leave and some months may pass before they can come again. This is better than an inland application in that with the latter, you have to wait much longer. When you have decided to apply for a marriage license and certificate, you will need to show the authorities proof of your present marital status, some ID and the date, on which you are planning to marry. If you are planning a name change, you will need to update your
passport
,
social insurance number
, health card,
driversí license
Ö the list is endless. Maybe it is best that you retain your last name.
If you do, after all, opt to get married abroad, you should know that most countries require proof of non-impediment to marriage abroad. You can find out whether you need to do this from the Canadian embassy or consulate in the respective country. You can apply for a certification by mail, sent to the Department of Foreign Affairs and International Trade. It takes around 40 working days to process the certification. Those who plan to marry outside of Canada, for instance, in the home country of their partner, may be required to apply for an entry visa. It is often possible to obtain a visa, although it is confusing at times. If you find the application process difficult, you may choose to use the services of a third-party. Note that every country will have different requirement for entry and legal marriage. In most countries, a passport is required to enter, but you may have to present additional documents like your birth certificate when getting married. You may have to show a document that proves your single status in some countries.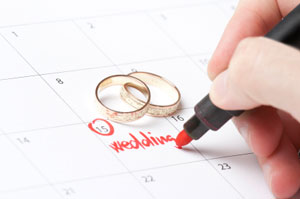 Regardless of where you want to get married, those born in
Canada
must provide a certified copy of their birth certificate plus the original. If you are a Canadian citizen but were not born in Canada, you have to provide copies of your Record of Landing form and Canadian citizenship card. If you are divorced, you have to provide your divorce judgment or a certified divorce certificate. Widows or widowers have to provide a certified copy of the death certificate of their late spouse. Those who are under age should also present a consent form. An interpreter should be present if the spouse is not fluent in French or English.
While you can marry a non-Canadian, marriage does not translate into a citizenship status. Spouses who return to the country and live here must submit an application for a permanent resident visa. This application is for the non-Canadian spouse, and it may take a couple of months before it is processed. It is important to plan ahead.
All documents you send along with your application should be in French or English, or you have to present a translation of the latter. It is not sufficient to provide translations by family members. Find a certified translator to do this as you will need an official declaration from the translator.
There are some tax implications to marrying a non-Canadian. Residents are required to notify the Canada Revenue Agency of their marital status even if their spouse is still legally a non-resident. The spouse will be treated as a non-resident if he or she is a national of a treaty country such as Australia, Singapore, Finland, Poland, and Romania.
Residents should submit Form RC65 with the Canada Revenue Agency, along with proof of net income and marriage certificate, if required. RC65 is a form that confirms marital status change and can be filled and submitted online. Canadians should specify their marital status, i.e. single, widowed, living with a common-law partner, or married. CRA may suspend your benefit payments if you fail to notify it about your new status. You will have to present proof of your spouse or partnerís net income. You are required to report the net income of your partner even if it is taxable in another country and not Canada.