Lacrosse and Ice Hockey as Sports That Stir up National Pride
The most popular national sports in Canada are ice hockey and lacrosse. Other popular sports are curling, soccer, basketball, baseball, and Canadian football.
Ice Hockey
This is the official winter sport and Canada is the birth place of hockey. The rules of the game were created by students at McGill University while the game itself was invented by British soldiers on duty. Many leagues and clubs were created by the late 19th century. The first organized game took place in 1875, and the first championship was organized 8 years later. The positions were as follows: goalkeeper, left, cover point, right wing, point, rover, and centre. Given the risk of injury, the players wear protective equipment, including skates, shin pads, a girdle, heavily padded shorts, and gloves. They also wear a mouth guard, elbow and shoulder pads, and a helmet.
This sport requires a combination of skills, including team play, power, and speed. Common injuries include head injuries, muscle strains, high blood pressure, broken bones and fractures, ligament tears, concussions, and lacerations. While there is a risk of injury, many young people join amateur teams. Canadians take pride in having professional ice hockey players who have won gold medals, including Wayne Gretzky, Bobby Orr, Sidney Crosby, Shea Weber, Jonathan Toews, Corey Perry, Patrick Marleau, Roberto Luongo, Patrice Bergeron, and many others. Players such as Hod Stuart, Tommy Phillips, Frank McGee, and Charlie Gardiner have been inducted into the
Hockey Hall of Fame
. Today, Hockey Canada oversees the national team which represents the country in different championships, cups, and the Olympic Games. Teams that have represented Canada in the World Championships, Winter Olympics, and Summer Olympics include the Trail Smoke Eaters, Port Arthur Bearcats, Toronto National Sea Fleas, and others. The current captain of the national team is Sidney Crosby.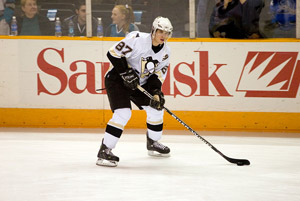 Lacrosse
Lacrosse is a national sport under the National Sport Act of 1994 and was invented in Montreal. It was in 1875 when the National Lacrosse Association was created while the CLA was formed in 1925. Lacrosse became a popular sport by the late 19th century. There are different versions today Ė inter-crosse, box, womenís field, and menís field lacrosse. Inter-crosse is also known as modcrosse and softcrosse and is a contactless version. The ball is hollow, softer, and larger while the rules vary from one place to another. Menís field lacrosse is another version whereby longer sticks are used. The Canadian team is one of the best in the world while Iroquois Nationals, the team of the Six Nations, has competed in many championships and won in 2006, 2002, and 1998. Box lacrosse is yet another version that is played on a turf carpet or a cement surface. The womenís version is a non-contact sport with a focus on ball movement. When it comes to famous players, Canada is the home of Olympic players such as Lawrence Pentland, Richard Louis Duckett, William Brennaugh, …lie Blanchard, and Angus Dillon. John Charles is one of the Olympic players who was a member of the Cornwall Lacrosse Club and was inducted into the Cornwall Sports Hall of Fame. George James Cattanach who played for the Shamrock Lacrosse Team is also an Olympic player. Other famous lacrosse players are Tommy Gorman, Jack Flett, Clarence McKerrow, and Man Afraid Soap.
Ice Hockey, Lacrosse, and Other Popular Sports
There are other popular sports in Canada, including team sports such as soccer, rugby union, cricket, and Australian rules football. Individual sports are also popular, including martial arts, wrestling, golf, bowling, cycling, and motorsport. The provincial and federal governments are also involved in different sports activities while many of Canadaís professional players are internationally recognized and play in teams and professional leagues in many countries around the world. Sports such as baseball, basketball, and ice hockey draw between 500,000 and over 1 million Canadians. Ice hockey is a popular sport among men and has a high participation rate. In addition to ice hockey and lacrosse, some of the most practiced sports include curling, skiing, snowboarding, and others. Ice hockey and golf, however, are the most practiced sports, drawing close to 1.3 and 1.5 million Canadians, respectively.