The New Aquarium in Toronto: a Unique Underground Attraction
The new aquarium in Toronto is a 135,000 square-foot underground attraction that is located in close proximity to the CN Tower. It opened doors in October, 2013. Niagara Falls was the original location, but the aquarium was eventually relocated. The new attraction displays more than 16,000 species, including green sea turtles, rays, jellies, sharks, and many others. With a volume of over 5.7 million litres, it is one of the main attractions in downtown Toronto. The aquarium is open daily.
Attractions and Events
For some people the aquarium is one of the greatest attractions in Toronto while others compare it to an amusement park. There are plenty of things to see here – the jellyfish wall, the tsunami simulator, the shark reef crawl tunnel, the shark touch pool, and many others. Visitors are offered the opportunity to organize corporate and social events, birthday parties, and even sleepovers. The aquarium also offers a wide array of educational programs for visitors of all ages. Workshops offer the opportunity to gain hands-on experience. Topics include the effect of global warming on oceans, the chemistry of water, water pollution, invasive species and water diversity, the marine food web, and many others.
Animals and Exotic Fishes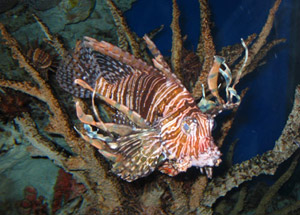 The aquarium is the home to freshwater and marine species of fish. The Rainbow Reef features exotic fishes such as the unicorn surgeonfish, emperor angelfish, and Picasso triggerfish. The Rainbow Reef is the home to more than 100 tropical species. The Dangerous Lagoon features a moving sidewalk and species of shark such as the yellowtail snapper, the roughtail stingray, the sandbar shark, and the sand tiger shark. It is also the home to green sea turtles. Other galleries include Planet Jellies, Ray Bay, Touch Tanks, and Discovery Centre. The Touch Tanks feature species such as the brownbanded bamboo shark and whitespotted bamboo shark. Educators help visitors to make contact and interact with the animals.
The team of marine biologists is responsible for nutrition, water chemistry, and different activities around the aquarium. Visitors have the chance to observe exotic species such as sea dragons, electric eels, venomous fish, and piranhas. The tanks hold 1.5 million gallons of water and display freshwater and saline habitats from different regions around the world. They offer a close view of exotic habitats, predators, and living fossils. Visitors can observe and touch species such as stingrays and crabs. Most attractions also feature interactive video and audio for a unique learning experience.
Efforts at Conservation
This is a kid-friendly attraction that offers both educational opportunities and entertainment. Whether visiting the aquarium to learn about aquatic life,
Ripley's
is a world-class attraction. The staff is committed to conservation and environmental protection and works in cooperation with different programs, initiatives, partnerships, and policies. The main goals are to create educational programs with a focus on conservation and to develop a sustainability program.