Royal Bank of Canada Careers and Job Opportunities
The Royal Bank of Canada offers a variety of positions for professionals from different educational backgrounds – from IT and operators to client and sales associates, customer service representatives, investment advisors, and many more.
The available positions will vary depending on the applicant's territory or province of residence. In addition, applicants may choose between full-time and part-time positions in different working environments such as RBC branches, insurance centers, call centers, commercial banking centers, etc.
Those who have experience in client service may apply for the position of client service representative. Experience in hospitality, retail, financial, or travel services is required. Previous work in a sales environment is a plus, as well as strong organizational skills. Successful applicants are good at handling cash and skilled at compiling files, figures, and facts in an orderly fashion. Job responsibilities include delivering efficient, fast service, responding to clients' contacts, assisting with financial transactions: bill payments, cheque cashing, deposits, money orders and transfers, etc.
If you have knowledge of short-term and long-term credit, experience with fixed income accounts, and a business school background, the position of credit salesperson is just for you. Series 7 and 63 (certified) and a university diploma are required for this position. As a part of their daily job responsibilities, salespersons at
RBC
maintain and develop relationships with clients; learn about different aspects of their clients' business; market the banks research capabilities and new issues; prospect for new accounts, and more.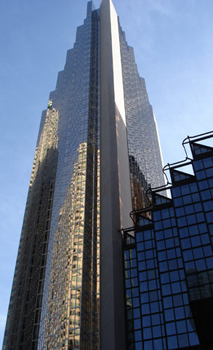 Individuals with a general insurance license or life license, sales experience, and excellent written and verbal communication skills can apply for the position of insurance advisor. Job responsibilities include enhancing client retention, referrals, and cross-selling sales activities; selling insurance products; assisting after-sales service, building external and internal networks to maximize business opportunities; and others. Individuals who apply for this position should have the option of becoming dual-licensed.
If you have an educational background in nursing, social sciences, psychology, health sciences or a related field, you may consider the position of vocational rehabilitation specialist. The ideal candidate for it has strong conflict management, decision-making, and analytical skills and excellent skills in oral and written communication. The successful applicant will be responsible for researching, developing, and implementation of vocational rehabilitation as to improve risk management strategies in view of disability claims. The vocational rehabilitation specialist works toward an effective vendor utilization that improves risk management and cost effectiveness. They manage the caseload for the life and health claims and are responsible for expense reporting.
Persons who have extensive experience in commercial relationship sales, excellent underwriting, credit, and analysis skills are suitable for the position of senior commercial relationship manager. The manager is responsible for ensuring relationship expansion by developing contact plans and strategies for all customers. They establish contacts with private bankers, banking center staff, market sector business leaders, other commercial relationship managers, as well as commercial banking sales assistants. In addition, the commercial relationship manager has a key role in ensuring good credit and operational quality through client discovery and selection, active management of high-risk situations, and up-to-date annual information.
Those who have specialized in bankruptcy and have knowledge in consumer proposals and credit counseling can apply for the position of Bankruptcy Specialist. Key accountabilities include opening bankruptcy accounts and proceeding with write-off accounts. Bankruptcy agents provide support pre and post filing for bankruptcy as well as administrative support for credit counseling accounts and consumer proposals. While administering accounts, bankruptcy specialists make sure that risk is limited at all times.