Shania Twain: Canada's Best-selling Female Country Pop Singer
Shania Twain is a Canadian songwriter and singer who is the recipient 27 BMI awards and 5 Grammy Awards. She also won 12 Juno awards and the International Achievement Award by the Canadian Museums Association. Twain is a popular singer who sold over 75 million albums. She was also a guest judge on the popular show Music Idol. Today, she is one of the best-selling female singers of Canadian origin.
Early Life
Born Eileen Edwards, Shania Twain grew up in Timmins, Ontario. She was raised by her step father Johnny Twain and her mother Sharon Edwards. The young girl was writing songs and singing by the age of 10. Unlike her school mates, she was singing at community events, TV, radio, and bars and playing guitar. Her first album was released in 1993 and her album The Woman in Me, which was released in 1995, was a huge success. She sold some 12 million copies. Shania was invited to perform in various television shows and other venues.
Career and Albums
Come on Over is her third album which includes hit singles such as From this Moment On and Love Gets Me Everytime. Her album Up was released in 2002 after she gave birth to her first child. By that time, Shania Twain has become a popular singer thanks to her powerful voice. Her first tour Come on Over took place in 1998 – 1999 and her second Up! Tour, which grossed more than $100 million, was held in 2003 – 2004. The tour reached Europe and North America, with venues in Boston, Toronto, Kansas City, Madison, Stockholm, London, and many others.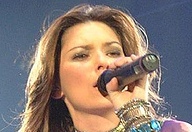 In 2010, the singer was inducted into the Canadian Music Hall of Fame. She has popular hits like I'm Gonna Getcha Good, The Woman in Me, You're Still the One, and many others. Shania is now working on a new album that will contain upbeat songs. This is her 5th album after a break that continued 11 years. Her single Today Is Your Day is co-produced by Nathan Chapman, David Foster, and Shania Twain and was released in 2011. She uses new techniques and background vocals for her first release since 2005. For critics, this is a pop song, while the singer describes it as a piece of country pop. Today Is Your Day received mixed reviews. Some critics consider it somewhat snoozy while others think it is refreshing.
The singer also started her own show called Why Not? with Shania Twain which featured her band mates, husband, friends, sister, and others. The show focuses on her personal tragedies, struggles, and life. It is a documentary produced by Gay Rosenthal. The singer is also starred in ads for Gitano jeans, Candie's shoes, and Revlon cosmetics.
Personal Life
In 1993, Shania married British record producer Robert John "Mutt" Lange. Their son Eja was born in 2001. Their marriage ended with divorce in 2010. In an interview for Oprah, the singer said that she has become an emotional mess since her husband left her. She married Frédéric Thiébaud in 2011. Twain is vegan and doesn't eat eggs, fish, and meat because of ethical reasons. Shania said that she has more energy now that she doesn't eat meat. PETA named her the sexiest vegetarian in 2001.
Image credit:
Via