Top List of Resorts in Canada
Speaking of
top resorts in Canada
, not surprisingly, the country is most famous for its ski resorts. They are many and varied in this snowy Northern country. The ski resorts offer many different ski terrains - the Rocky Mountains in British Columbia and Alberta, the Laurentian Mountains in
Ontario
and
Quebec
, and more. Given the long winters in the country, efforts have been made to cultivate even flat terrains into ski hills, and you can indeed find such, for example on the Saskatchewan prairies. Many hills and river valleys have been turned into ski hills in the absence of mountains.
Canada Olympic Park
Canada's ski resorts offer ski slopes, runs and tracks for beginners' through experienced skiers. One great resort is that associated with Canada Olympic Park, which is located in the province of
Alberta
. The park hosted the 1988 Winter Olympics. It is both a resort and training grounds for high performance athletes. During the Olympics, the park hosted mainly ski jumps, luge, and bobsleigh. Snowboarding and cross-country skiing are also available.
Canmore Nordic Centre Provincial Park
Another prime resort area is Canmore Nordic Centre Provincial Park. It is also located in Alberta. This resort features cross-country skiing, biathlon, and opportunities for hiking and mountain biking. The park offers 60 km of excellent cross-country and biathlon trails, as well as a brightly illuminated night skiing track. The Centre was renovated significantly in 2005, reestablishing itself as a top destination for mountain biking and biathlon. It is a destination for summer and winter sports activities. In summer, visitors are kept busy by a golf course, double-track and single mountain bike and hiking trails, a mountain bike skills park, and a paved rollerski trail. During the winter, there is a track-set trail, which is suited for all ability techniques. There is the Day Lodge as well, featuring rooms for private rental, a fireplace, café, showers, changing rooms, and day lockers.
Apex Mountain Resort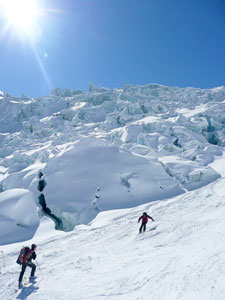 Apex Mountain Resort, located in British Columbia, lies 2187 m above sea level. It features 50 km of well-maintained cross-country terrain and 67 ski trails, served by ski lifts. This resort is small and suitable for more advanced skiers. It is a great place to visit if you are looking for a cozier, more intimate experience. Apex Mountain Resort takes pride in being a full-service resort with an incredible terrain, great weather, quality snow, and friendly people. It has a terrain mix suited for novice, intermediate, and advanced levels. Among the special amenities are lift accessed tube park, world cup aerial site, two terrain parks, and adventure ice skating loop, which is lit and maintained. In addition, there are skating and hockey rinks, and night skiing.
St. George's Golf Course
This may come as a surprise, but Canada is one of the top golf destinations in the world! One of the best (and probably the oldest) golf resorts in the country is St. George's. It was designed by the famous architect Stanley Thompson in 1929. Home to four Canadian Opens and several PGA, LPGA, and Senior PGA tours, St. George's offers an excellent experience for the avid golfer. Other well-known golf resorts in the country are Highland Links, Capilano, The Links at Crowbush Cove, and The Lake Joseph Club.
Delawana Inn Spa and Conference Resort
Where summer resorts are concerned, the Delawana Inn Spa and Conference Resort is the perfect Ontario Resort vacation destination for many travelers. It lies on the exquisite Georgian Bay in Muskoka and features a golf course, a wellness spa, and many other recreational facilities. The resort is a suitable destination for families as well. It offers onsite entertainment, children's programs, excellent meals and a variety of accommodation options. There is an outdoor cinema, water skiing on Georgian Bay, tennis courts, and lovely golden beaches. When kids participate in various activities, their parents can join a romantic boat cruise, walk through the woods, or have fun at a beach party. Whatever your intentions or passion is, the options for fun are endless.