The Toronto Zoo as the Home of Species from Different Zoogeographic Regions
The Toronto Zoo is the home of animal species from the African savanna, Eurasia, the African rainforest, Malayan woods, and Tundra trek.
History and Construction
The largest Canadian zoo opened doors in 1974 and is located on Old Finch Avenue near the Rouge River. The zoo first opened in 1888, with animals shown in dark cages. A proposal to build a new, modern zoo was submitted to the municipality in 1963. The site was approved in 1967 while a master plan was prepared in 1969. Construction began a year later. The new zoo was built with animals' comfort in mind and is one of the world's largest. Today visitors have the chance to explore different regions and environments, from the African rainforest to the savanna, tundra, and a lot more.
Animal Species
The zoo hosts some 5,000 species from different zoogeographic regions. The Americas are represented by the black-tailed prairie dog, Baltimore oriole, blue poison dart frog, white-eared marmoset, and others, including fishes, mammals, birds, and invertebrates. Animals that are native to the Eurasian region include the Barbary ape, Barbary sheep, snow leopard, and mouflon. Some species are off exhibit while others can be seen from the zoomobile ride. Off exhibit are animals such as the West Caucasian tur, red panda, and dromedary camel. The elephants were moved to California due to concerns that Canada's cold climate is not suitable. Bob Barker who is an animal rights activist and former TV show host donated $700,000 to be used for their transfer to California.
There are also pavilions such as the Australasia Outdoor Exhibit, Americas Outdoor Exhibit, Waterside Theatre, and Kids Zoo. The Kids Zoo is the home to species such as the secretary bird, striped skunk, and wild turkey.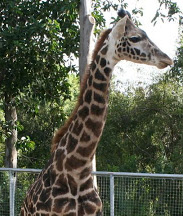 Conservation Efforts
The
Toronto Zoo
participates in a number of conservation projects and initiatives aimed at environmental protection. There are conservation-education programs and initiatives to educate visitors and emphasize the importance of sustainable living. The zoo participates in different programs that focus on captive breeding, for example, Black Footed Ferret Captive Breeding and Trumpeter Swan Reintroduction.
Educational Programs and Camps
The zoo also organizes day camps and school programs for children, along with elementary level workshops, guided tours, field trips, and others. Field trips are organized outdoors, with children also visiting many indoor exhibits. The goal is to help children to learn about different animal and plant species. There is a Zoo School that offers unique learning opportunities, including classroom lessons, tours, and interactive learning. Students learn about the function and anatomy of plant and animal species, genes, evolution, diversity, and a lot more. They engage in class discussions, investigations, and debates to learn about the changing relationships between technological progress, nature, and humankind and its needs.
The Toronto Zoo also offers Youth Badge Programs, Bush Camps, Adult Programs, and Family Programs. Youth Badge Programs focus on ecology, endangered species, conservation efforts, bird watching, plant and animal species, and more. The adult programs are designed for nature lovers who are 19 years of age or older. The Parent and Tot program, on the other hand, is offered to families with children. The program includes animal encounters, interactive breaks, guided tours, and more. Parents may bring one or two children with them. There is also a Rise n' Shine Program for children and a Critter Crew program designed to help children to learn about species of different size. The program includes outdoor activities, crafts, guided tours, and more.