Canadian Hall of Fame - Canada FAQ
Download the Famous Canadians Whitepaper Here

Canada
is the birth place of many
famous
writers, scientists, composers, musicians, and actors. Canada has been the country of origin and home country of researchers,
inventors
, Noble Prize winners, missionaries and martyrs, aboriginal leaders, humanitarians, visionaries and philanthropists, millionaires, as well as numerous professionals who contributed to the cultural legacy and prosperity of Canada, and to the human progress in general.
Writers
Canada is famous for its talented contemporary authors, with Canadian literature regarded as one of the world's best.
Saul Bellow
(1915-2005), born as Solomon Bellows in Lachine (
Quebec
), was a novelist and Nobel Prize laureate. His best known novel,
The Adventures of Augie March
(1953) is a humorous depiction of the Jewish life in Chicago. Another talented writer,
Margaret Atwood
(b. 1939 in
Ottawa
,
Ontario
) is a novelist, poet and critic. Her novels have been translated into twenty languages.
Margaret Laurence
(1926-1987) was born in Neepawa,
Manitoba
. Before becoming a professional writer, she worked as a reporter for Winnipeg Citizen. Her novels
A Jest of God
(1966) and
The Diviners
(1974) won the
Governor General's Award
and were filmed.
William Patrick Kinsella
(better known as W.P. Kinsella), born in
Edmonton
in 1932, is a famous novelist and professor in Literature at the University of Calgary. His short story
Dance Me Outside
was filmed.
Elizabeth Smart
(1913-1986) was born to a prominent family in
Ottawa
, Ontario. A remarkable novelist and poet, she wrote her best-known novel
By Grand Central Station I Sat Down and Wept
. Considered her masterpiece, the novel was inspired by her dramatic love affair with the poet George Barker.
Alice Munro
(b. 1931 in Wingham, Ontario) is a prominent short story writer whose works often appear in The New Yorker and The Atlantic. Three of her Short Story Collections won the Governor General's Award.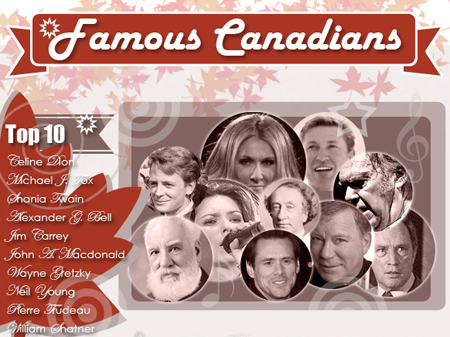 Musicians
The music of Canada reflects diverse cultural influences, with a considerable impact on the musical heritage of the country. Among the numerous prominent
contemporary singers
are Alanis Morissette,
Celine Dion
, Nelly Furtado, and Shania Twain.
Alanis Morissette
is an Ottawa singer and songwriter who won the Grammy Award. Her first international album, Jagged Little Pill, released in 1995, sold 30 million copies.
Bryan Adams
is another prominent singer, songwriter and guitarist from British Columbia. He is well-known both for his music and his philanthropic activities. Adams was awarded the Order of British Columbia and the Order of Canada.
Celine Dion
is a Quebec singer who won the Grammy and Juno Awards. Gaining solid recognition in North America, Europe and Asia, Celine Dion is considered one of the best selling singers of all times.
Nelly Furtado
is a
British Columbia
singer, famous for her unique voice, talent and originality.
Neil Young
is a
Winnipeg
singer, guitarist and songwriter. He is widely known for his varied career and particularly for his work in country-tinged folk rock and grinding, a lumbering type of hard rock. The Windsor country pop star
Shania Twain
(born Eilleen Regina Edwards) has won five Grammy Awards. With three albums certified Diamond by RIAA, she is the second best-selling artist in Canada.
Actors
Canada is the home country of many
actors
who were starred in world class productions and earn between 1 and 35 million dollars for a role in a single movie.
Carrie Anne Moss
gained worldwide fame as Trinity in The Matrix trilogy.
Donald Sutherland
is famous movie actor whose film career spreads over four decades.
Keifer Sutherland
is also very famous actor.
Dan Akroyd
is a well-known actor, comedian, screenwriter and musician.World famous
Jim Carrey
is a comedian and movie actor who gained popularity for his roles in comedies and drama movies. The Anglo-Canadian actress
Kim Cattrall
gained worldwide fame as Samantha Jones in the HBO series Sex and the City.
Canadian-born actors famous in Hollywood are: Marie Dressler, Lorne Green, Beatrice Lillie, William Shatner, Keifer Sutherland, Pamela Anderson, Mike Myers, Michael J. Fox, Keanu Reeves and many others. The
Canadian Movie database
has an extensive list of Canadian actors.
For the Virtual Canadian Hall of Fame click here
More Canadian Hall of Fame articles
What great inventions is Canada home of?
List of famous Canadians
Top Canadian Singers
Top Canadian Bands
Top Canadian Actors
Alexander Graham Bell
Pierre Elliott Trudeau
Wayne Gretzky
Margaret Atwood
Terry Fox
David Suzuki
Celine Dion
Jim Carrey
Bryan Adams
The Group of Seven - Male Painters
Shania Twain: Canada's Best-selling Female Country Pop Singer
Canadian Movies as a Contribution to the Global Entertainment Industry
Famous Canadian Designers Who Changed the Fashion Landscape