Government Programs and Private Sector Jobs for Students
Besides your pocketbook, there are many benefits to finding a summer job. You will master important skills such as time management, confidence, and working under pressure. A summer job gives students a competitive edge. This is a way to figure out whether a particular field or sector is right for them.
Choosing Location
Your university town is not the best place to look for employment opportunities simply because there is a lot of competition. It is best to apply nationwide rather than stay on campus. Apply with companies and non-for-profit organizations.
Canada Summer Jobs
Canada Summer Jobs helps students to find employment and offers funding to companies and non-governmental organizations. The focus is on local communities and priorities. While small businesses are eligible, provincial and government agencies and departments as well as members of the Senate and the House of Commons are not. There are also requirements for students. They should be permanent residents or citizens who are registered full-time. Persons with a refugee status are also eligible to apply. Students between 15 and 30 years can apply under the program. The CSJ also offers wage subsidies to private sector and public employers. The program reimburses 50 percent of the minimum wage. Additional funding is offered to companies that employ students with disabilities.
Government Programs
The government also offers employment opportunities under different programs such as the Federal Student Work Experience Program, the Post-secondary Co-op/Internship Program, and the Research Affiliate Program. The FSWEP, for example, is designed for full-time students and offers jobs in the information technology sector as well as clerical and office jobs and other employment opportunities. Previous experience is not required. The Treasury Board of Canada determines the rate of pay depending on factors such as years of study and educational level. The program offers temporary jobs.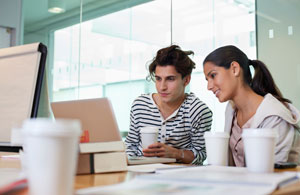 The National Research Council also runs its own student employment program. Young persons are asked to submit a copy of their recent high school or college transcripts, along with their resume. They should fill in personal information such as their email, home phone, languages of correspondence, and citizenship status. Students are also asked to describe their work-related experience, skills, awards and scholarships, as well as preferred location.
Employment Opportunities for International Students
There are part-time jobs available to international students in Canada. They can choose between off-campus and campus employment provided that they are registered as full-time students. Those who wish to work off-campus must obtain a permit. Full-time employment is available during spring breaks and summer and winter holidays. International Experience Canada is another program for citizens of Germany, France, Chile, Costa Rica, Australia, and other countries. While international students are allowed to work in Canada, there are also opportunities for Canadians who wish to travel abroad.
Private Sector Opportunities
Different companies and non-for-profits offer full-time and part-time employment to young individuals. They can choose from different jobs such as accounts receivable clerk, sales representative, food counter attendant, electronics sales person, information operator, and many others. Other opportunities available include taxicab driver and kitchen helper. You can choose from contract work, internships, and various employment opportunities. Another option is to start your own business. In fact, some students do this through Summer Company which is a program of the Ministry of Economic Development, Trade and Employment in Ontario. Those who are 15 to 29 years old are eligible to apply. Funding is also offered under the Youth Entrepreneurship Partnerships, and the goal is to offer entrepreneurial and educational opportunities. Non-for-profits receive funding of up to $75,000. Participants include Aboriginal organizations, municipalities, post-secondary institutions, and others.
Issues to Consider
According to a report by CIBC World Markets, more and more adults are forced to accept jobs that have been previously reserved for young people. Unemployment is the main reason for this. Some people lack computer skills and other competencies and are unable to find well-paid employment. The food and retail industries are two sectors traditionally reserved for youth.