When does Canada celebrate its national holiday?
Canada Day is a federal statutory holiday and
national holiday
, celebrated on July 1 (unless it is on Sunday). The occasion marks the joining of the Province of
Canada
,
New Brunswick
, and
Nova Scotia
into a federation of 4 provinces as of July 1, 1867. United Canadas was divided into Ontario and Quebec in the process. Canada Day celebrates the anniversary of enactment of the Constitution Act, 1867, then the British North America Act, 1867. The national holiday took several decades to catch on because many early Canadians self-identified themselves as British. It was in 1917 when Canada Day was first celebrated, and the next set of festivities occurred 10 years later. The first official recognition of the national holiday occurred in 1958, and the first country-wide celebration took place on Canada's 100th anniversary (1967).
Referred to as Canada's birthday and previously called Dominion Day, Canada Day is observed internationally and throughout Canada. Most communities host celebrations such as barbeques, fireworks, maritime shows, festivals, carnivals, parades, and other outdoor public events. Free musical concerts are organized. The capital,
Ottawa
is the locus of the celebrations, and large cultural displays and concerts are held on Parliament Hill. The
Prime Minister
and
Governor General
, and a member of the Royal Family or the monarch may take the place of the governor general or attend the event. Many events are held in parks and museums across the city.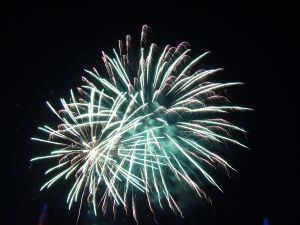 There are sports games, children's activities, live music, historical presentations, and more. Each city and town has its own way of celebrating Canada Day, from choreographed fireworks and live performances to pancake breakfasts and skateboarding competitions. Canadian expatriates also celebrate by organizing Canada Day activities near or on the date of the holiday.
Many Canadians have their friends and family over for a barbeque. Some go to the beach or the park to fly a kite. Others join their town's local parade, dressed up in red and white. Visitors also go to a carnival and have a snack on cotton candy, fried dough, and beer. Many towns and cities hold festivals, with bands playing music at different outdoor venues. Some Canadians go to their local brewery – tours are free-of-charge and offer samples. Others go to a citizenship ceremony and watch new citizens taking an oath to respect and love their new country. Outdoor activities are the preferred choice of many Canadians. Some go on a bear watch, allowing them to observe grizzly bears in their habitat. Others go water rafting, which is a fun activity, whether you are a rookie or a rafting pro. Fishing is another way to celebrate Canada Day and enjoy nature. Many Canadians take a couple of days off work and go camping in the Canadian wilderness.
In Canada, government offices, banks, schools, and many businesses and stores are closed on July 1. It is a good idea check with tourist attractions, stores, and restaurants to confirm Canada Day hours.