How to Immigrate as Independent Skilled Worker?
Each year, Canada's
federal government
gives permanent residence to a certain number of
independent skilled workers
from other countries so as to replenish and refresh the existing workforce on the labour market, thus keeping the economy viable and competitive.
In order to
immigrate to Canada
as an independent skilled worker, one must meet some of the following requirements: he or she must be a foreign citizen and have a job arrangement with a
Canadian employer
; alternatively, one has to be foreign national living legally in the country as a seasonal worker or an independent student; as a third option, the immigration applicant should have at least one-year of experience in one of the following professions: oil and gas drilling,
mining
and quarring, crane operating, welding, steam pipe fitting, repair and maintenance of heavy machines, plumbing and wiring, carpentry, cooking, college and vocational teaching, university teaching, public healthcare (the available job positions are for care assistance, general profile nurses, physiotherapists, general practitioners, physicians, etc). The so-called white-collar job positions available include finance experts, company managers, IT specialists and system administrators, financial auditors and accountants, managers in the sector of tourism and recreation, engineers, etc.
Note that the list of professions available for independent skilled workers from abroad is quite broad. It covers virtually all sectors of the
Canadian economy
. But having a profession is not the only requirement that qualifies one for Canadian residence as an independent skilled worker.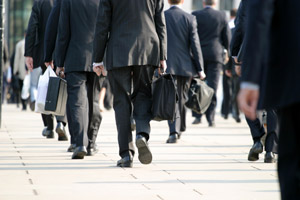 In order to find out if you eligible for
Canadian immigration
as such, you need to fill in a chart available on the website of Immigration Canada that will help you assess your chances. The first section of the chart includes personal information about the applicant such as country of residence, address, contact details, education, language skills in
English and French
and total length of service in the particular profession. If you have a spouse or a life partner, you need to fill in the same information about her in the next sections. Finally, you will be asked how much money you intend to bring to
Canada
. The minimum amount per family member is about ten thousand Canadian dollars.
The maximum amount of eligibility points is 100 and the higher you score, the bigger the chances that the officials from Canada Immigration contact you. Among the eligibility criteria that bring most points are education and languages spoken. Other criteria are experience, age, arranged
employment with a Canadian employer
, and adaptability. The application process can be quite lengthy depending on where you apply. It could be from 6 months to 3 years. As part of the application process, you will be required to pay a non-refundable application fee for yourself as the primary applicant, dependent children, and spouse or common law partner, if any. Once you pass through the interview process successfully, you will be required to pay additional fees for language testing, medical examinations, and issuance of police certificates. Mind that all of your dependents have to pass medical examination as well. Finally, you are advised to check the website of the Canadian immigration services because the rules and eligibility requirements for applying may change any time.