How to File for Unemployment in Canada
Life as an unemployed can be particularly hard especially if you have a family or relatives to support. Fortunately for you, if you live in
Canada
, you can apply for
unemployment benefits
, which can greatly improve your financial standing.
These benefits are rationed out from an unemployment fund maintained by
Service Canada
and stocked with the
employment insurance fees
that every working
Canadian citizen
is required to pay on a monthly basis. The amount you may receive as an unemployed is determined by your earnings while employed, the length of time you worked for your previous employer(s), and the number of unemployed persons in the area you live. Therefore, if you have recently quit your job or have been laid off, do not hesitate to go and claim your unemployment benefits. To do so, you will need a valid identification document, records of employment (ROE) from your previous employers, and an application form for unemployment benefits.
If you have lost your
SIN card
or it has expired, you will need to get a new one by submitting the requisite documents to Service Canada. Since you do not want to waste time, ask for the quickest service available. Once you have the SIN card sorted out, go once again to Service Canada and request an unemployment benefits application form.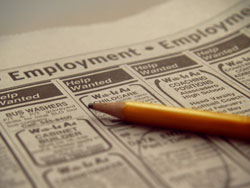 Then visit your employer(s) for the past eighteen months and request a record of employment that states how much you have worked for the particular individual or company as well as the salary you were paid. To this information, Service Canada will pay particular attention when deciding whether or not you deserve unemployment benefits and, if yes, how much they should be. In case an employer denies you a record of employment, call Service Canada at 1 (866) 783-5567 and they will give you advice on how to proceed.
Having obtained the records, fill out the application form and submit it to Service Canada. Give detailed information about how you lost your
job
. However, be extremely careful with your choice of words, for this information will have a huge bearing on whether you will be granted unemployment benefits or not. For example, if you write that you have been fired as a result of an accident which you have purposefully caused and which cost your employer a fortune, you may as well forget you will be receiving unemployment help. Keep in mind that only persons who are able and available for work but cannot find a job are entitled to receive benefits. Other types of benefits include parental and maternal benefits, fishing/farming benefits, and compassionate care and sickness benefits.
Do not tarry about submitting the unemployment benefits application because if more than four weeks have passed since the date you left your job, you will be no longer entitled to claim financial support.
Also, if you leave Canada while you are receiving unemployment benefits, you should report your absence from the country to a Service Canada centre. Otherwise, you may lose your benefits or be asked to pay a substantial fine in the amount of up to $1500.