Wayne Gretzky
You've seen him smartly dodge checks from incoming opponents, and you've seen him performed extremely well.
Wayne Gretzky
is a renowned Canadian hockey player with the wits and ideals of a champion. Known for his achievements on ice, he has garnered a multitude of awards. To date, he is known as the
'greatest hockey player of all time'
according to coaches, other players, and sportswriters.
Early Years
He started mastering the sport as early as the age of 6. Skating with children older than himself, Wayne Gretzky developed skills in hockey that scored and won many games. He excelled well beyond his years, remarked his first coach, Dick Martin.
At ten, Wayne Gretzky garnered an astounding 378 goals with 120 assists for 85 games. He was part of the Brantford Nadrofsky Steelers when he captured the attention of the media.
When he turned 14, Gretzky's family moved to
Toronto
to help him advance in his career and relieve him from the pressure he was facing in his hometown. At a game of the Canadian Amateur Hockey Association, Gretzky's brilliant performance won him the right to play at the Toronto Nationals. In the Metro Junior B Hockey League held in 1975-76, Wayne garnered 60 points in 28 games.
By the time Gretzky was 16, he played in the Ontario Hockey League for one year. With the Sault Ste. Marie Greyhounds, Gretzky started wearing his 99 jersey. After a year, Gretzky signed with the Indianapolis Racers of the World Hockey Association, where after eight games during the season, Alberta Oilers or the Edmonton Oilers owner Peter Pocklington bought Gretzky's contract. This was the start of Wayne Gretzky's
successful career
.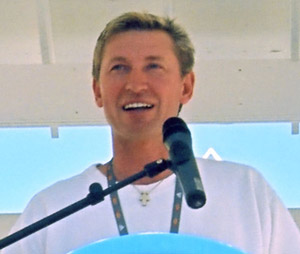 He played for four NHL teams during his brilliant hockey career.
Achievements in Hockey
Scoring the most points as a first-year player, Gretzky received Most Valuable Player in his first season 1979-80 with 137 points to boot. He also became the youngest player to score 50 goals.
The Hart Memorial Trophy recognized him as the Most Valuable Player, the Art Ross Trophy made him a Scoring Champion, while the Conn Smythe Trophy turned him into the Playoff Most Valuable Player. These are just a few of the many trophies that the professional athlete garnered in his 21-year career.
Upon his retirement in 1999, he was inducted into the Professional Hockey Players'
Hall of Fame
. Because of his achievements in the professional hockey world, Gretzky was given this high honor.
Image Courtesy
He held 40 regular-reason records, 6 All-Star records, and 15 playoff records over the span of his career. He even scored over 200 points for four seasons, making him the only NHL player who have made it that high.
With his expertise and talent in hockey, he showed more than just good game at the ice rink. He left a legacy full of wits and confidence. Having achieved his life-long dream, Wayne Gretzky landed at the Hall of Fame of professional hockey. Indeed, the "greatest hockey player of all time" continues to share his expertise with younger generations.