Canadian Immigration - Canada FAQ
Immigration to Canada
has been an active ongoing process for hundreds of years, the rates and departure countries differing, depending on the time and political context. The
immigration legislation
underwent a lot of changes in the second half of the 20th century, particularly in 1976, when the Immigration Act came to effect and when the Immigration and Refugee protection Act was introduced in 2002. The
ethnic diversity in Canada
points to a very broad policy in the field of
immigration
. The country had 34 ethnic groups, according to the 2001 census, ten of which represented by over a million people. The so-called visible minorities - Filipino, South Asian, Chinese, and African Americans – account for 16 percent of the population and the "invisible" include 10 percent Germans, 4.63 percent Italian, 3.87 percent Dutch, etc.
The immigrants, residing in Canada fall into three categories – Family, Independent and Refugees. Canada works in close cooperation with the
United Nations
High Commissioner for Refugees.
Refugees
are usually seeking protection and apply to remain in the country. They are defined as persons in or out of the territory of Canada who are in need of protection and fear returning to their country of origin. The state offers protection to refugees who fear persecution and to individuals whose removal from the country may result in torture, cruel or unusual punishment, and poses risk to their physical integrity and life. The Canadian refugee system is comprised of two main components: the In-Canada Asylum program and the Refugee and Humanitarian Resettlement Program. The first program targets individuals who apply for refugee status from within the territory of
Canada
.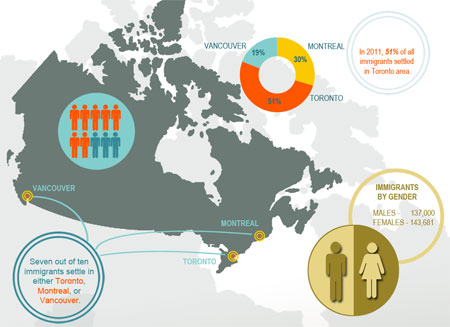 The second program is designed for persons who seek refugee protection from outside Canada. Refugees from over 70 different nationalities were resettled under the Refugee and Humanitarian Resettlement Program in 2007. In 2008, there were 21 860 refugees. Not all persons are eligible for protection. People who have been convicted of serious offences and individuals who were denied refugee claims are not eligible.
The
family class immigrants
are people, close to Canadian nationals (numbered 65 567 in 2008).
Independent immigrants
(149 072 as of 2008) are selected for approval on the basis of specific characteristics of the applicant – age, health, qualifications, education etc. Their eligibility depends on the cost efficiency of accepting the individual as a Canadian resident. They are also called economic immigrants and are divided in subcategories by the Citizenship and Immigration Canada. In 2005, almost 20 percent of the overall immigration fell under the category of skilled workers. The best option is the Canadian Skilled Worker Visa, which refers to migration with the status of a Permanent Resident, without having to go through the whole trouble of finding an employer or a sponsor. The permanent resident status confers the right to reside in the country with your dependants and to find employment anywhere on its territory. Also, holders of Canadian permanent residence can attend school without having to pay for tuition.
To be eligible for selection for the Skilled Worker Visa, you need at least 67 out of a hundred points. The factors that points are given for are age,
education
, experience, languages spoken and rate of adaptability. It takes anywhere between 6 and 40 months to obtain the visa, depending on the time of year and the specific immigration office. The migration point system is indicative of a very smart, pragmatic government policy, creating incentives for skilled labor to migrate to Canada. Another accommodating tool is the
Business Program
, created to allow for shorter application procedure for highly skilled immigrants with business and management experience. As a result, the white-collar immigrants can obtain a Permanent Residency permit in a quite shorter period of time. A corresponding program was launched in
Quebec
under the title "Immigrant Investor Program".
More Canadian Immigration articles
How to Immigrate to Canada?
How to Immigrate as Independent Skilled Worker?
What is Family Class Immigration to Canada?
How to come to Canada under the Provincial Nominations Program?
What is the Canadian Business Immigration Program?
How to Settle as a Refugee in Canada?
How to Become a Canadian Citizen?
Sponsor Your Family and Reunite in Canada
Immigrating to Canada vs. the U.S.
The Canadian Citizenship Test: Rewarding or Nerve-wracking Experience for Newcomers