How to Apply for Employment Insurance in Canada
Any
Canadian citizen
or
immigrant
to the country who has recently been dismissed from their job can apply for
employment insurance (EI) benefits
, a sum of money paid in regular installments by Service Canada as a compensation for the loss of work. The application process itself is not a complicated procedure although you will have to gather and submit a number of requisite documents.
First of all, check if you are entitled to receive EI benefits. You may check with
Service Canada
and find the relevant requirements for your economic region (for example, how many insurable hours you must have worked prior to the layoff Ė the number varies from 420 to 700 depending on the region where you live and its unemployment rate). In general, Canadian citizens who are pregnant, caring for newborns or adopted children, and those who care for chronically or seriously ill family members may apply for employment insurance benefits. Starting January 2011, self-employed individuals will also be entitled to four types of EI benefits: sickness, maternal, parental, and compassionate care benefits. If you find it difficult to determine whether you are eligible or not, request help from a Service Canada official at 1 800 206-7218.
Having ensured that you have the right to apply for EI benefits, you will need to procure the following documents: your
Social Insurance Number
(if it begins with a 9, you will also have to provide a proof of your immigration status and a valid
work permit
); a Record of Employment (ROE) from your employers - if they issue ROEs in paper format, you must request an ROE from each of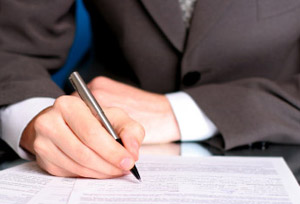 them for the past 52 weeks; however, if an employer submits your ROE in an electronic format, you do not need to ask them for a paper copy - as soon as it is received at Service Canada, you will be able to print it online from your Service Canada account; valid personal identification such as your driverís license, birth certificate, or
passport
if you apply in person; your complete bank information details as shown on your bank statement; your detailed version of why you have quit or have been dismissed from any job in the last 52 weeks; a medical certificate, which shows how long your incapacity will last, if you are applying for sickness benefits; information regarding your most recent
employment
such as your gross salary,
taxes paid
, severance pay, sums yet to be received, etc.
After you have gathered all the relevant documentation, you can proceed with the actual application process. You can either apply in person at your local Service Canada center or submit an online application via the Service Canada website. Just do not delay applying because if you miss the deadline of four weeks following your last day of work, you may lose your right to employment insurance benefits. In this regard, you should know that you can still file an application even if you donít have all of your ROEs.
If you qualify for employment insurance benefits, you will receive the first payment within 28 days from the day Service Canada receives your claim.