What is the national animal of Canada?
Canada has two national animals –
the beaver
and the
Canadian Horse
. The beaver is a large, nocturnal, semi-aquatic rodent known for building lodges, canals, and dams. It is the world's 2nd largest rodent, but the beaver population in North America has declined steadily due to extensive hunting (it is mainly hunted for its fur and glands). The importance of the beaver for fur trade and the economic development of the country led to its designation as a national animal. The beaver appeared on the coat of arms of the oldest commercial corporation in North America, the Hudson's Bay Company. Established in 1913, the Beaver Insurance Company operated for many years. Eventually, it went out of business and was absorbed by a large insurance company.
The beaver also appeared on the first postage stamp of 1849, which was issued in the Canadian colonies. Apart from being a national symbol, the beaver is a symbol of many associations, organizations, and units, including the Toronto Police Services, the Canadian Pacific Railway, and the Canadian Military Engineers, which display the beaver on their coat of arms or crest. Today, the beaver appears on the coat of arms of some Canadian provinces and on 5-cent coins. On provincial coats of arms, the beaver represents
national unity or Canada
. A lion is also depicted on some coats of arms, and it is the symbol of Great Britain.
In the view of some,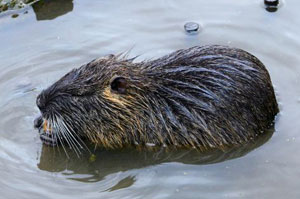 Conservative Senator Nicole Eaton in that number, the beaver represents the colonial past of the country. It is an industrious and humble animal which recalls Canada's early expansion through fur trade. The polar bear, on the other hand, is a majestic animal that reflects the spirit of the nation. The polar bear is one of life's winners and being a ruthless predator, it is at the top of the food chain. Opponents argue that the beaver is a symbol of a bygone era. However, the debate goes beyond the choice of a national animal, although it has set fur flying across the country. Some claim that Canada is undergoing an identity make over.
The Canadian Horse is another animal commonly seen as a national symbol of Canada. The
government of Canada
passed a bill in 2003, which made the Canadian Horse an official symbol and a national animal of Canada. This animal is associated with the agricultural traditions and historical origins of the province of Quebec, and hence, provincial legislation recognized the Canadian Horse as a 'heritage breed of Quebec'. Canadian Horses are generally bred for driving, but some are used as work horses as well. They compete in a variety of riding disciplines and have a good temperament, making them useful family horses. The Canadian Horse is known for having a wavy, heavy tail and mane and good feet and bones. It is considered to have endurance, hardiness, and soundness and is an easy keeper.