How to Become a Canadian Citizen?
According to a recent statistical information, about 150,000 permanent residents become
Canadian citizens
every year. They go through a number of steps as part of the application process that may eventually help them become citizens of this prosperous
country
.
Who Cannot Apply
First, you need to be aware that the application process for Canadian citizenship is rather complicated, usually taking four or five years to complete. Some categories of people are not eligible to apply: individuals who are placed under removal order; persons who are convicted for indictable
criminal offences
during the past 3 years; those who were in prison, or probation, or on parole during the past 4 years; individuals who are suspected of and/or have been found guilty of war crimes; and persons whose Canadian citizenship was revoked in the past 5 years.
Eligibility Criteria
Candidates for Canadian citizenship need to be at least eighteen years of age. Different rules apply for dependents and underage persons. Bear in mind that only permanent residents who have lived in the country for at least three years in a row and are able to communicate in
French or English
are allowed to apply for Canadian citizenship. In addition, the applicants for Canadian citizenship are required to do a test, covering basic facts about Canadaís
political system
,
geography
, and
history
. It will be wise if you take the time and learn some basic facts about the country that will be your home for the rest of your life.
Filing an Application
This being done, you can now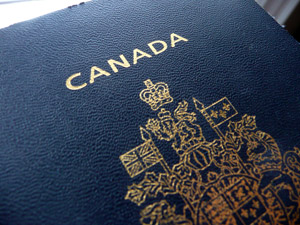 proceed by downloading an application form at the
official website of Citizenship and Immigration Canada
. Note that there are separate application forms for adults and for persons under eighteen years of age. Before you start completing the form, take the time to carefully read the instructions that go with it, because the application fee is non refundable. The right to be a Canadian citizen costs a hundred Canadian dollars and if you are granted citizenship, you will have to pay another $100 CAD.
Required Documents
Once you have paid the application fee, donít forget to enclose the receipt together with your application form. Each application contains strict requirements about the applicantís two photographs. Make sure you sign the bottom of each photo and place them in a small envelope. You will be also required to enclose certain documents to your citizenship application form such as copies of 2 pieces of identification, a copy of
immigration
landing record, and the two photos.
Once you have filled in the application form properly, you have to put it in an envelope and post it to the address specified in the form. In a week or two from mailing your application, you will be mailed the booklet,
A Look at Canada
, which will help you prepare for the citizenship test mentioned earlier. Soon afterwards, you will also get a notice to appear for a citizenship test or an interview. Finally, if you meet all requirements and pass the test successfully, you will be notified to appear to take an oath of citizenship.