What are the top industries in Canada?
The three major types of industries in the country are manufacturing, services, and natural resources.
The largest manufacturing sector in the country is the automotive industry. Canada is one of the largest exporters of automobile equipment and goods due to its position within NAFTA. Leading equipment manufacturers and global automakers operate in Canada, among which General Motors, Toyota, and Ford. Leading bus and track manufacturers have also located in Canada, including Volvo Bus, Motor Coach Industries, and Hino. In addition, a number of large original equipment suppliers operate in the country, including Johnson Controls, Aisin Seiki, and Continental.
The country's expertise in the machinery and equipment sector spans a number of different sub-sectors such as agricultural machinery, metalworking machinery,
natural gas
and oil drilling equipment, mining equipment, and others. Many global leaders operate in Canada, including Hitachi Ltd., Tesco, Alstom, etc. Southwestern Ontario and Toronto are the home to the largest machinery and equipment manufacturing cluster in Canada. A number of companies that operate in different sub-sectors are located in Southern Ontario. Among these are companies with a focus on the aerospace and automotive
industries
.
The biopharmaceutical industry is also a global player. The pharmaceutical industry is growing rapidly, with many generic pharmaceutical manufacturers and name-brand producers operating in Canada. Leading pharmaceutical companies have production and R&D facilities and distribution offices in many locations across Canada. Among them are Abbott Point-of-Care, Johnson & Johnson,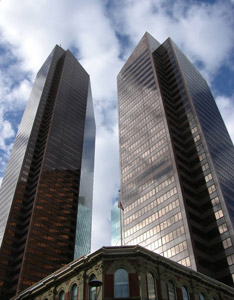 Pfizer, Novartis, and others. The medical devices industry in Canada is also among the largest in the world. Medical device companies operating in Canada incorporate advanced technologies and the newest discoveries from other industrial sectors, including telecommunications, advanced materials, informatics and software, microelectronics, and biotechnology. Medical device companies produce a variety of therapeutic and diagnostic tools, including dental materials and implants, cardiovascular devices, home healthcare products and assistive devices, and others.
The chemicals industry is another top industry, concentrated mainly in
Alberta
and
Quebec
. A strong research infrastructure supports these hubs and facilitates innovation. Central Canada is a major petroleum-refining region on the North American continent and the largest Canadian chemicals cluster. Many of the leading chemical companies have production facilities in the country, including Shell Chemicals, Dow Chemical, Sabic, INEOS, and others. Canada's skilled workforce, low tax rates, and dynamic business environment attracts major investors in the chemical sector.
Food processing is another industry that attracts savvy investors. The food processing sector is highly competitive due to the country's internationally-respected inspection systems, streamlined regulations and corporate taxes, and a well-connected transportation network, assuring rapid distribution. Leading global investors in the food processing industry include Louis Dreyfus Mitsui Foods, Archer Daniels Midland Co., Meiji Seika Kaisha, and others.
Finally, Canada is a leader in retail and institutional
banking
and advisory and financial management services. The country's stable financial markets and regulated, safe environment attract global investors. Four of the 10 largest banks in North America and six of the world's 50 safest
financial institutions are Canadian
.