Top 10 Places to Visit in Canada
Rich in history and culture, Canada is famous as an ideal vacation spot for many tourists. If you plan to visit Canada on your next vacation, here are the top 10 places to visit and enrich your knowledge of Canadian history, nature, and traditions.
Banff National Park in Alberta
Banff National Park is situated in the
Canadian Rockies
, or more specifically, the
Alberta
Rocky Mountains. The town of Banff boosts a worldwide reputation of mountain resorts.
Jasper National Park in Alberta
Jasper National Park is nestled in the Canadian Rockies. It is notable for its mountain wilderness. Known as the wildest of the mountain parks, Jasper has a trail system and the only icefields that are accessible by road in the world, the Columbia Icefields. Jasper has many places to hike at, and is the home to some of the rarest North American animals.
Niagara Falls
The breathtaking view of the
Niagara Falls
is now a bustling tourist attraction. With fine restaurants and hotels, the Niagara Falls has become a great vacation spot for families and couples. The highlight of the Niagara Falls site is naturally the Falls, promising a memorable experience for those who visit it.
Quebec City
Quebec
is an industrialized and bustling city. Energy fills the streets, with many festivals, shows, sporting events, and attractions that the city has to offer. With a rich four-hundred-year history, you can learn a lot about Canada in this metropolitan city.
Vancouver
Vancouver
is known for its mountain ranges and scenery. Bordering the Pacific, the sparkling ocean is reflected in the metropolitan city. Welcoming visitors daily, Vancouver offers a safe environment and is known as one of the most beautiful cities in the world.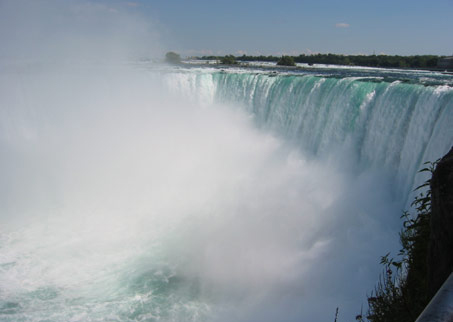 Victoria
Victoria
is famous for having a spectacular Inner Harbor. If you want to learn more about history, there are many theaters and museums for you to visit. Victoria is a real culturally enriched place. It is a great leisure place to visit because of its mild climate which gives it the name "City of Gardens".
Ottawa
Ottawa
is one of Canada's hotspots to visit. It is the home to the Rideu Canal, Ontario's first UNESCO World Heritage Site. Apart from being a thriving place for dining and nightlife enjoyment, another highlight is the oldest operating farmers' market.
Churchill in Manitoba
Churchill is known as the world's polar bear capital. With different packages to observe these beautiful creatures, you have the opportunity to admire them in their natural habitat and get close to them.
Bay of Fundy in New Brunswick and Nova Scotia
The Bay of Fundy makes your summer vacation exciting, with many beaches and resorts to visit. The fishing villages offer exquisite sea food and exciting cuisine for food lovers. There is a variety of water adventures to plunge into: cruising, water sports, and other dynamic activities.
Toronto
Famous for its
CN Tower
,
Toronto
features landmarks that make it a must-visit place in Canada. In fact, the
Royal Ontario Museum
showcases an exhibition about the history and culture of Toronto.