Top 10 Places to Visit in Toronto
Toronto
is the largest city in
Canada
as well as its economic center. But not only that, it also boasts several tourist attractions. Here are the top ten places to
visit in Toronto
.
CN Tower
The CN Tower is a sight to behold. It is a tall observation and communications tower located in Downtown
Toronto
. The structure is 553.3 meters in height and is the tallest tower in the world for 31 years after its construction in 1975. It is the most recognizable icon of Toronto and considered a Canadian symbol.
Casa Loma
The Casa Loma (Hill House) is a Gothic Revival style building in uptown Toronto. It once belonged to Sir Henry Mill Pellat. Today, the building is a museum, which attracts thousands of visitors each year. It is also a popular setting for movies (e.g. Harry Potter, X-men, and the Pacifier).
Nathan Phillips Square (City Hall)
The Nathan Phillips Square is located just in front of the Toronto City Hall. It is a lively urban plaza found at the intersection of Bay Street and Queen Street West. It is named after the mayor of Toronto who served the city from 1955 to 1962. It is also the site for many public events, such as concerts and festivals.
Flatiron Building
The Flatiron Building is a famous name for the 5-storey Gooderham Building, a prominent landmark in Toronto due to its shape, color and red brick design. Although it shares the same name as the famous Flatiron Building in Manhattan, it was built earlier than its New York counterpart.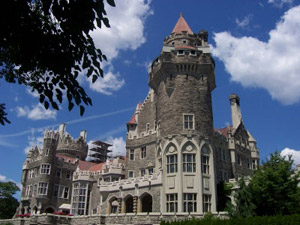 Distillery District
The Distillery District is a world-famous village lined with Victorian Industrial buildings and brick-lined streets. This village in Downtown, Toronto boasts exquisite restaurants, theaters, fashion and jewelry boutiques, and galleries.
Toronto Islands
Another hot destination in Toronto is the Toronto Islands, a chain of islands located in Lake Ontario. These islands are good spots for recreation. They are connected to the mainland through various ferry services.
Royal Ontario Museum
The Royal Ontario Museum (ROM) is the largest natural history and world culture history museum in Canada. It has various collections of African, East Asian, and Near Eastern art, as well as European and Canadian history. It is located north of Queen's Park.
The Beaches
The Beaches (or The Beach) is a popular tourist spot in Toronto. It is situated east of the Old City. It is a relaxing destination when planning to have a view or dip in the salty waters.
Ontario Place
Ontario Place is an amusement park situated on the shore of Lake Ontario. It features three artificially-shaped islands, cinemas, children's amusement park, and concert stages. It is also a popular destination for family vacations (for Canadians and tourists alike).
High Park
High Park is Toronto's largest park located north of Humber Bay. It has a total area of 161 hectares. The area has various cultural facilities, sporting facilities, and other recreational facilities. While some of park's areas have been transformed into recreational spots, a third of its total area still remains natural.