Toronto
The city of
Toronto
is the capital of the province of
Ontario
,
Canada
. It is also the
largest city in the country
. The city is located on Lake Ontario's northwestern shore in Southern Ontario. With approximately 2.5 million people, it is ranked as North America's 5th most populous municipality. It has a total area of 630 sq km or 243 sq mi. The boarders of the city include the Rouge River to the East, Steeles Avenue to the North, Highway 427 to the West, and Lake Ontario to the South. The city has a humid continental
climate
which is considered moderate. The summers are humid and the winters are cold.
A Brief History
The Toronto region has been occupied by people just after the last ice age. During the 17th century, the French and the Indigenous people of the area opened trade. A trading post was subsequently opened in the 18th century. It was later colonized by the British in 1763. After 30 years, Fort York was built, thus beginning the urbanization of the community. The community established in the region became the Canadian capital of York. Toronto became a very important center for commerce, and the population expanded to approximately 50,000 residents in 1867, the year that Canada was established as a country. Today, the city is home to more than 2 million residents and has become the nation's commercial and financial center. It has also become one of the world's most desirable
urban centers
.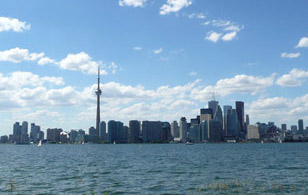 Economy
Toronto is the economic capital of Canada. As an established global city, it is now considered one of the world's financial centers. The city leads in certain economic sectors including business services, television production, film, arts, media, aerospace, transportation,
finance
, medical research, sports, tourism, etc. In terms of market value, the
Toronto Stock Exchange
is ranked number eight.
Demographics
Toronto
plays an important role for
Canadian immigrants
. The population of this area is both International and Cosmopolitan. About 49 percent of the area's population are born outside the country. This is due to the city's clean environment, high living standards,
diversity in terms of race
, and low crime rates, making it one of the world's most livable or desirable cities. Toronto is also considered the second most expensive city in Canada after
Vancouver
.
Places of Interest
Toronto prides itself with its
CN Tower
, the world's tallest free-standing structure for a record of 30 years. The tower measures a staggering 553m in height. It also has one of the world's largest zoos, the Toronto Zoo. The
Royal Ontario Museum
, a world renowned museum for natural history and world culture can also be found in the area. Toronto's Art Gallery of Ontario offers a huge collection of different artworks from
Canada
, Africa, Europe and many more. Greektown is another main attraction which features a concentration of restaurants. The Taste of Dantforth festival attracts over a million people every year. In addition, Yorkville boasts a variety of stylish dining areas and shopping malls.